Le Duo GUILMAULT DUBOIS
Ludmilla Guilmault-Jean-Noël Dubois
Le Duo Guilmault-Dubois se forme en 2007 lors d'une rencontre impromptue entre les deux artistes. L'osmose  du Duo est telle qu'ils décident de jouer ensemble et de former le Duo Guilmault-Dubois. Surnommé "le Duo Explosif" du à leur fougue et leur virtuosité pianistique. György Cziffra fut leur mentor. Ludmilla Guilmault fut repérée par le maître à l'âge de 11 ans. Jean-Noël Dubois eut l'occasion de le rencontrer à 24 ans. 
En 2015, lorsqu'ils décidèrent de créer se produire ensemble, le nom de Cziffra leur apparu comme une évidence pour baptiser leur duo.  
Le jeu des deux interprètes au tempérament fort et explosif est en résonance direct avec les musiques de fortes inspirations folkorique. Chopin, Liszt. Dans une grande complémentarité, le Duo se déchaîne pour partager avec le public sa passion pour cette musique de caractère.
Ils revendiquent aussi leur culture française et espagnol, Debussy, Ravel, de Falla, Fauré, Albeniz, Granados.
La sortie chez Triton, de leur album "Satie 2016" illustre leur singularité en l'honneur du 150ème Anniversaire du compositeur.

Ecoute de l"Album parfums d'Escales : czardas de Monti
https://soundcloud.com/ludmilla-guilmault/czardas-monty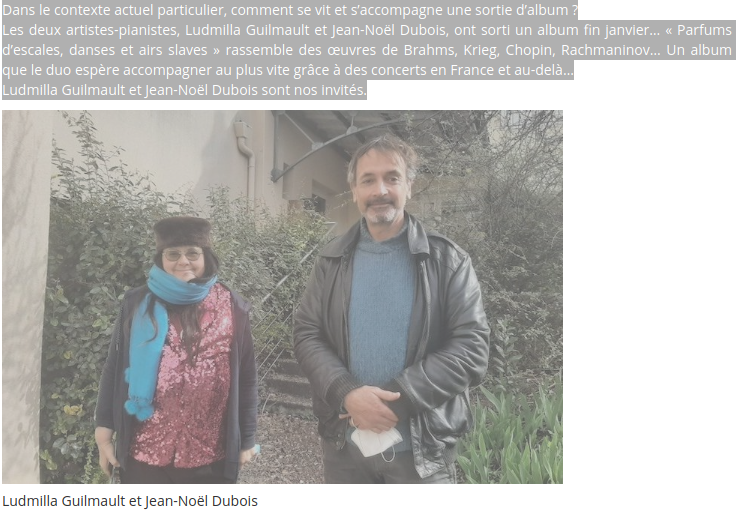 INTERVIEW: RCF le 2 MARS 2021 pour le sortie de l'Album Parfums d'Escales

https://www.rcfcharente.fr/2021/03/02/tour-de-table-ligue-des-optimistes-de-france-en-charente-sortie-dalbum-parfums-descales/



Présentation de l'Album avec le label  VDEGALLO ''Parfums  d'Escales '' pour piano à 4 mains
Liens d'Ecoute
https://soundcloud.com/ludmilla-guilmault/sets/airs-et-danses-slaves

https://vdegallo.com/fr/produit/parfums-descales-danses-et-airs-slaves-au-piano-ludmilla-guilmault-jean-noel-dubois/


 Téléchargements:
https://www.prestomusic.com/classical/products/8870795--parfums-descales-danses-et-airs-slaves
https://www.deezer.com/fr/album/193255282
https://www.qobuz.com/ch-fr/album/parfums-descales-danses-et-airs-slaves-ludmilla-guilmault-jean-noel-dubois/e3k5enjzng9pc
https://music.apple.com/album/1544821457?l=fr
https://www.amazon.fr/dp/B08QLS38DJ/









Sortie d'Album: Janviee 2021  Parfums d'Escales





Biography of the Duo
The Guilmault-Dubois Duet 
was created in 2007 when they met quite by chance. 
They got on so well with each other that they decided to play together.
N
icknamed
"Explosive Duo",
György Cziffra was their master
,  Ludmilla Guilmault was spotted by the master at  eleven old. Jean-Nöel Dubois meat him in 1985.
In 2015, when we decided to create our duo reveals Jean-Nöel Dubois, we naturally chose the name ''Czifffra".
Both pianists have a strong, fiery temperament, and they have both always appreciated the Satie repertoire. On stage they are as one, totally complementary, they both unleash on the public their passion for this music full of character.
In honour of the 150 th anniversary of Erik Satie, the artists have chosen compositions which convey their fiery temperament and free expression.
Erik Satie wanted to thanks the musicians, so he interpreted the final piece of the album recorded to his caleidophone.
Galerie Le Duo GUILMAULT DUBOIS
PLAYLIST Le Duo GUILMAULT DUBOIS
Update Required
To play the media you will need to either update your browser to a recent version or update your
Flash plugin
.
La playlist
Le Duo GUILMAULT DUBOIS - chosta-valse.mp3
Le Duo GUILMAULT DUBOIS - czardas-.mp3
Le Duo GUILMAULT DUBOIS - 5e-danse-hongroise.mp3
Le Duo GUILMAULT DUBOIS - grieg1.mp3
Le Duo GUILMAULT DUBOIS - barcarolle.mp3